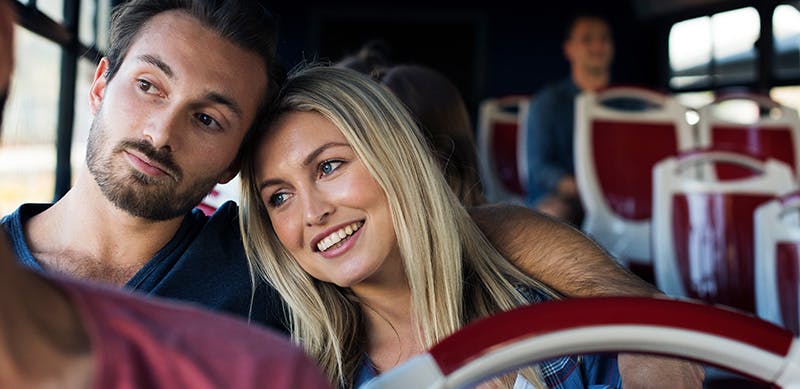 Getaway from
Dry Mouth

.

Love to travel? Unfortunately, a condition called Dry Mouth can travel with you. It can be a source of stress, anxiety, and ultimately, take away from your getaway. Don't know whether you suffer from Dry Mouth? If you experience any of these symptoms, it could be a telltale sign:
Difficulty speaking because your mouth and throat are dry
Bad breath
Tooth decay
Difficulty sleeping
Decreased sensitivity to the way food tastes
Mouth sores
Chapped lips
If you show signs of these symptoms, take our Dry Mouth Self-Assessment Test to find out if you have or are at risk for Dry Mouth. Speak to your pharmacist or dentist about Dry Mouth and its potential consequences.
So, what to do about Dry Mouth while on vacation? Everyone deserves a break and with a little planning, you can hopefully get the rest and relaxation you deserve, without the constant worry about Dry Mouth. Here are a few key travel tips, from us to you, that might help make your vacation worry-free.
What to Do
Research Food and Drink Options
Figuring out food and drink options beforehand can help mitigate anxiety and reduce any potential symptoms of Dry Mouth. For instance, try eating smaller meals more frequently and ensure you stay properly hydrated—eating and drinking can stimulate saliva production, giving short-term relief from Dry Mouth.
When choosing meals or snacks, consider food with a higher water content such as watermelon, cucumbers, or zucchini.
Avoid food and drinks with a high acidic content such as strawberries, pineapples, or sweet carbonated soft drinks.
You could also consider using broth and sauces liberally to help with hydration while making foods easier to chew and swallow.
For immediate and long-lasting relief, a product specifically designed to help with Dry Mouth is your best choice. Having a plan and a backup is always the best way to travel—that includes having Biotène Gel and Spray on hand in case of emergencies—it's small enough to fit in your carry-on.
What to Bring
Choose the Right Biotène Solution
Biotène offers a variety of Dry Mouth solutions. Make sure you know which products are right for your trip. For immediate relief, Biotène Moisturizing Mouth Spray might be an option—it's a portable, discreet, on-the-go solution. For daily care, using the Moisturizing Mouthwash can help keep your Dry Mouth at bay consistently throughout the day.
Sweet Dreams
Just mentioning 'Dry Mouth at night' may hit a nerve with many Dry Mouth sufferers. It can disrupt your sleep patterns, robbing you of rest and depleting you of energy for the remainder of your trip. When Dry Mouth and throat wakes you up at night, make sure you have OralBalance Moisturizing Gel on hand for immediate relief. Another tip that may help mitigate Dry Mouth at night would be to sleep with a humidifier. Helping the air in your hotel from drying out will help you wake up rested and ready to tackle the day. Consider travelling with a portable version or inquiring with the hotel on whether they can provide one for you.
What to Avoid

Constantly drinking water at night can provide short-term relief to your Dry Mouth symptoms, however it can also lead to frequent bathroom trips, which can disrupt your sleep patterns.
Attempting to treat your Dry Mouth with candy or gum may provide short-term relief, but if your Dry Mouth is persistent, sugar could worsen cavities caused by Dry Mouth in the first place. If you find candy or gum is your only option in the moment, opt for the sugar-free variety. They can stimulate the flow of saliva and provide

short-term relief

Alcohol and caffeine consumption can bring on the effects of Dry Mouth. When possible, try and limit your consumption.
What to Know

Did you know that the pressurized air in the cabin of an airplane can trigger Dry Mouth symptoms?
Did you know that weather can impact your Dry Mouth? Extremely dry climates can affect your mouth directly. If you're travelling to a destination with any of these climates, make sure you're prepared for the potential of Dry Mouth.
Travelling with

Biotène Moisturizing Mouth Spray

, along with sugar-free gum and mints in your carry-on may help you to manage you dry mouth when you travel.
Regardless of which plan, product, or practice works best for you, having a solution to Dry Mouth discomfort can help keep you happy on your holiday.